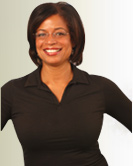 Terry A. Sneed, PT, DPT, ATC, CEAS
Director
Terry is a native Washingtonian and the Owner and Director of Elite Physical Therapy & Wellness Center. She is a licensed Physical Therapist, Board Certified Athletic Trainer, Certified Pilates Practitioner with a specialty in rehabilitation, and Certified Ergonomist. She is also certified in Dry Needling.
Her experience in treating orthopedic, sports and performing arts injuries spans over 20 years, where she has provided physical therapy for dancers, actors, musicians, athletes and individuals. She was the touring physical therapist with the Broadway Production of "Bring in Da Noise, Bring in Da Funk" and provided back stage physical therapy with The Miami City Ballet for five years. Terry has treated performing artists from a variety of dance companies, schools and Broadway Productions such as The Bolshoi Ballet, Joe Goode Dance Company, "Fosse", "Hot Feet", The Kirov Academy of Ballet, Washington School of Ballet, and Duke Ellington School for the Performing Arts. As an Athletic Trainer Terry traveled with and managed sports injuries for multiple collegiate sports teams.
Terry received two Bachelor's degrees from Howard University; one in Physical Therapy and another in Athletic Training and recently completed her Doctorate in Physical Therapy. She holds memberships with the American Physical Therapy Association, International Association for Dance Medicine & Science and the National Athletic Trainers Association.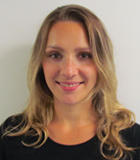 Natalia Sosnovtseva, PT, DPT

After working as an aide in several rehabilitation settings in the DC area, Natalia obtained her Doctor of Physiotherapy degree from the University of Melbourne. She is dedicated to helping clients of all ages achieve their optimal physical health and well being and has a keen interest in women's health. Her experience includes working as a Physical Therapist in the Aged Care setting, as well as volunteering her time in a pro bono community clinic as a student clinician. She has worked with prevention and treatment of sports injuries as the Athletic Trainer with the Old Xaverians Football Club in Melbourne and has assisted the Potomac Athletic Club Rugby Team.
She has also presented her work on community health promotion at the Australian Physiotherapy Association National Conference. In her spare time, Natalia enjoys spending time with her gregarious son and engaging other new moms in the area to participate in physical activity in the form of walking and hiking.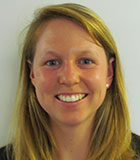 Ellen Barr, PT, DPT

After attending physical therapy as a patient for several athletic injuries and finding a love for learning about human anatomy, physiology, and wellness as an undergrad at Furman University, Ellen went on to obtain her Doctorate of Physical Therapy from the University of Maryland School of Medicine in Baltimore. While in PT school, she served as the President of her class. She continued her passion for promoting wellness as she developed nutrition presentations for her physical therapy class, a stroke support group, and a rehabilitation team at an acute care hospital.
Ellen is a member of the American Physical Therapy Association and Neurology Section. She has a keen interest in treating patients with vestibular impairments and has attended several courses pertaining to evaluation and treatment of individuals experiencing dizziness and imbalance. Her clinical experience includes working in an outpatient balance and vestibular clinic, an outpatient orthopedic practice where she developed her manual therapy skills, and a trauma hospital where she treated patients with multiple comorbidities and complex conditions. Ellen enjoys being a lifelong learner and giving back to the community. She has taught "Yoga Sculpt" classes at Core Power Yoga and, in her spare time, you can find her at a yoga studio, enjoying the outdoors, or with her friends and family in the DC/Maryland area.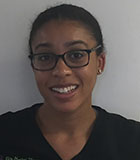 Polo Lynn Edwards, PT, DPT, CKTP

She is a native to Rockville and the Washington D.C area, and attended Our Lady of Good Counsel for High school. She enjoys treating the orthopedic and sports medicine population. This was influenced by her years of training as a competitive swimmer starting at the age of 8 through her collegiate years in undergraduate school. She maintains active membership with the American Physical Therapy Association, and is an Orthopedic and Sports section member.
Polo received her Bachelor's Degree in Sports Medicine with a minor in Chemistry from Howard University. During her undergraduate career she was a full time Division I student athlete. She received her Doctorate of Physical Therapy from Thomas Jefferson University. She has participated in continuing education course where she has completed coursework in the Maitland, McKenzie, Graston technique and is a Certified Kinesio Taping Practitioner® through the Kinesion Taping® Association International. Her future plans include obtaining her Orthopedic Clinical Specialist certification.
In her spare time she enjoys playing with her puppy Lilah and participating in local spinning classes at the gym, and teaching learn to swim to all age groups from Mommy and me, adult learn to swim, and swim team prep.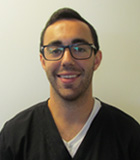 Daniel Riggio, ATC
Physical Therapy Technician

Daniel grew up in Colorado, Texas and Maryland before attending the University of South Carolina where he received his undergraduate degree in Athletic Training. He is a Board Certified Athletic Trainer who has experience working with collegiate, high school and junior high school athletics. He became interested in both Athletic Training and Physical Therapy after years of playing competitive soccer and other various sports combined with a new found passion for anatomy and physiology. He plans on attending physical therapy school in the future.
In his spare time, he enjoys playing pickup soccer, basketball, football and golf. He also plays the drums in a band.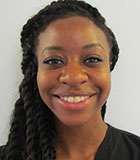 Valencia McPhail
Physical Therapy Technician

Valencia McPhail was born and raised in Palmer, Alaska. Before moving to Washington to attend Howard University, she always knew she wanted to help people. Her early career interests in the human performance sprang from her background in elementary, middle and high school athletics. Specifically basketball, volleyball and track and field.
Now a 2016 graduate of Howard University, Valencia is passionate about health and wellness and enhancing patients' ability to achieve overall well-being. She is particularly interested in orthopedic, sports, and performing arts-related injuries and has experience working with athletes on all scholastic levels. During her free time, Valencia enjoys dancing, playing sports, spending time with family and friends, and traveling.
In keeping with her goals, she plans to attend physical therapy school in the future.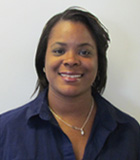 Erica Fitch
Billing Manager
Erica is a certified Insurance Coding Specialist and Medical Assistant with 18+ years of experience.  Her career has led her to gain experience in multiple specialties to include OB-GYN, internal medicine, physical therapy, psychology, and ophthalmology medical billing for providers as an independent contractor or as an office employee.  Erica stays informed with ever changing insurance companies rules by attending continuing education classes and by media updates. She has strong work habits, and is a professional  as well as dependable team player.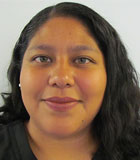 Brenda Canales-Zamora
Front Desk Patient Coordinator

Brenda was born and raised in Washington, DC. She attended high school in the Tenleytown area.
After high school, she attended Everest College in the Medical Assistant Program. She has worked in the medical field for 4+ years and most recently in the Front Office and as the Patient Coordinator. She has gained experience that has led her to a career path in the medical field.
Brenda plans to return to school in the near future and continue her education in the medical field.