News Updates
What to Expect in Thoracic Outlet Syndrome Physical Therapy
Source: Verywell Health

Thoracic outlet syndrome (TOS) is a cluster of disorders that occur when the nerves, arteries, or veins that run between your clavicle (collarbone), highest rib, and two of the scalene muscles are pinched or compressed. Fortunately, in many cases, the symptoms of thoracic outlet syndrome can be addressed with physical therapy.
Physical Therapy for Carpal Tunnel Syndrome
Source: Verywell Health

If you have pain, numbness, tingling, or weakness in your hand or hands, you may have a condition called carpal tunnel syndrome (CTS). This condition occurs when the median nerve in your wrist becomes compressed and irritated. Physical therapy for CTS can help decrease your pain and abnormal hand sensations, regain strength, and improve overall hand and arm function.
The Benefits of Hands-On Physical Therapy
Source: Verywell Health

Manual physical therapy (PT) refers to a cluster of hands-on therapeutic techniques used by a therapist to treat a wide variety of symptoms and conditions.
What to Expect From Herniated Disc Physical Therapy
Source: Verywell Health

A spinal disc herniation is a relatively common diagnosis that occurs when the gel-like inner portion of a disc (called the nucleus pulposus) protrudes out through a torn portion of the outer disc layer (called the annulus).
Review: Sport Specialization at an Early Age Can Increase Injury Risk
Source: American Physical Therapy Association

Parents and coaches need to be educated on the risks and signs of overuse injuries common in children who specialize in a single sport at a young age, say authors of a recent research review published in the American Journal of Sports Medicine. Surgery, they concur, should not be the first-line treatment for such injuries.
What you need to know about dyskinesia
Source: Medical News Today

Dyskinesia is defined as abnormal, uncontrollable, involuntary movements. There are many different types of dyskinesia with symptoms that range from minor tics to full-body movements.
Morgan Moses Foundation is Encouraging Attendance and Empowering Students
Source: morganmosesfoundation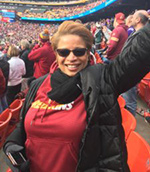 Morgan is not only proud to support Access Youth and fund the Tutor.com tutoring, he encourages other supporters to join the cause. Terry Sneed, PT, DPT, ATC, CEAS, a native Washingtonian and the Owner and Director of Elite Physical Therapy & Wellness Center in Glover Park, is another advocate joining Morgan to support Access Youth. Each year, Morgan donates tickets to a Redskins football game to fellow education advocates in the D.C. community. This season, Terry Sneed placed the highest fundraising bid and was seen cheering in the stands at the Redskins game against the Minnesota Vikings on Sunday, November 12.
Association Of Protective Stepping With Fall History
Source: Physical Therapist

Findings of this paper supports those who suggest that future research should explore the feasibility of implementing more specific and standardized assessments of reactive balance control into clinical practice.
Research shows physical activity does not improve after hip replacement
Source: Medical News Today

The benefits of regular physical activity following a hip replacement are well known, so this research is important for healthcare professionals because it suggests that patients need to be encouraged to be more physically active.
Private practitioners urge patients to choose physical therapy over opioids to manage pain
Source: News Medical

In concert with the APTA, members of the organization's Private Practice Section are stepping up efforts to educate the public about physical therapy as a safe, nondrug alternative to opioids for pain management.
How to Address Obesity in the Patient with Osteoarthritis of the Weight Bearing Joints
Source: Physical Therapist

Research suggests 5 to 10% reduction in their current body weight will significantly improve parameters of health.
Physical Therapy is Best Choice for Pain Management
Source: University of Kentucky News

The CDC released guidelines in March 2016 urging prescribers to reduce the use of opioids in favor of safer alternatives in the treatment of chronic pain. Physical therapy is one of the recommended non-opioid alternatives.
New treadmill improves comfort for patients
Source: Brush News Tribune

The anti-gravity treadmill provides patients who have lower-body injuries with a less painful and faster recovery process.
7 Reasons to try physical therapy
Source: The Spectrum

Instead of prescribing pain medication, most doctors are now prescribing physical therapy to their patients with conditions such as low back pain.
Olympic athletes use them, but do these recovery therapies really work?
Source: PBS

The NewsHour reached out to two health researchers for some perspective on the efficacy of cupping and other common recovery and healing therapies used by Olympians.